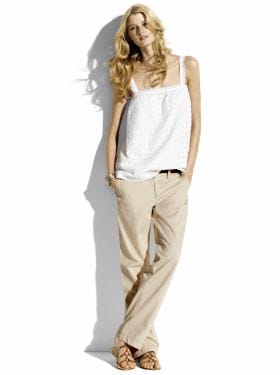 Flagship brand Gap of The Gap Inc. (NYSE: GPS) sucks. I'm all for "buying when theres blood in the streets", but if there is no end to a company's failure in sight, it may be better to hold off. With seasons of uninspired collections, GAP is quickly turning into a K-Mart brand, with only its subsidiary, Banana Republic, doing considerably well. When consumers can turn to alternate companies for better fashion at a competitive price, such as Forever 21, H&M (STO:HMB), and Zara,there is no reason to purchase subpar clothing. Gap, here is a tip for the outfit pictured above named "Casual Charm":
1. Fire the model, she isn't good looking and no one knows who she is.

2. Fire/smack the designer who thought that washed out earth tones was a great idea for the fifth season in a row.
3. Fire the person who put together this outfit and named it. It should be called "no personality".